Research
Making progress toward recovery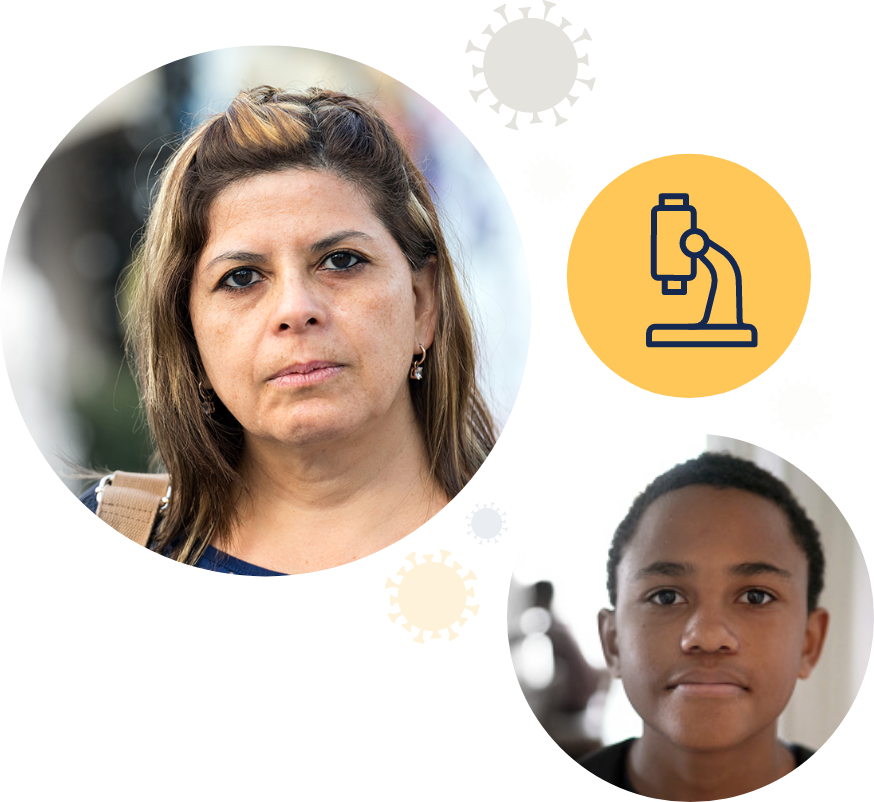 Together we can do more. The RECOVER Initiative brings together scientists, clinicians, patients and caregivers to understand recovery from the long-term effects of COVID and how to predict, treat, and prevent the disease.
Explore

Research

How Research Works
How Research Works
Learn more about how RECOVER studies work, access RECOVER research protocols, and understand what to expect as a participant in RECOVER studies.
Community Participation
Community Participation
RECOVER includes community voices at all levels of the initiative, as we seek diverse experiences to inform our research.
Research Protocols
Research Protocols
RECOVER uses detailed plans, called research protocols, to keep each of the RECOVER studies on track. These plans often change and are updated as the research progresses.
RECOVER Research
Questions
What are the different types of PASC (post-acute sequelae of
SARS-CoV-2
), including Long COVID?
What effects does Long COVID have on other diseases or health problems?
What happens inside the body that leads to Long COVID?
What types of treatments work best for Long COVID?
How long do symptoms last from Long COVID? Can there be effects later in life?
What effects do different COVID virus variants have on Long COVID?
What happens inside the body that protects some people from Long COVID?
What can be used to prevent Long COVID?
April 1, 2022
Researchers from RECOVER and the National Patient-Centered Clinical Research Network (PCORnet) compared the risk of heart problems after COVID infection and after mRNA COVID vaccination. They used EHR data from 40 health care systems representing more than 15 million people, aged 5 years or older. The study compared people of similar age, gender, and number of vaccine doses to see what increased the risk of heart problems.
The study found that the risk of heart problems after getting an mRNA COVID vaccine was very low for people of all ages and genders. Also, the risk of having heart problems after having COVID was significantly higher than after getting an mRNA COVID vaccine.
These findings support the continued use of the recommended mRNA COVID-19 vaccine for all eligible people aged 5 or older. See this recent study in the CDC's Morbidity and Mortality Weekly Report (MMWR).
Continue Reading

NIH.gov
RECOVER
Together
Progress takes the best science.
The RECOVER Initiative will collect data from many patients across the country. This will include studies that:
Use data from medical records to understand how people are experiencing Long COVID.
Examine tissues from research participants to understand changes inside the body.
Test different treatments for symptoms experienced by patient participants with Long COVID.
By exploring different ways that people's bodies are affected by COVID and looking at which treatments may be effective, we can better understand Long COVID. We will then combine all of these data to help answer big questions about PASC, including Long COVID.
The detailed study plan—called the main protocols—is the same for each type of RECOVER study. Using the same study plan for each study type lets us combine data from those studies even though they are taking place at multiple locations. This helps us get answers to important questions faster.
We designed RECOVER so that each type of study brings specific kinds of information that will help us predict, treat, and prevent Long COVID. Various groups of people—known as cohorts—will be included in RECOVER observational cohort studies and RECOVER clinical trial studies. These groups include adults, children and their caregivers, and pregnant women and their newborn babies. Including many different people in RECOVER cohorts will help us understand how different people experience the long-term effects of COVID.
Improving Understanding Through Collaboration
The NIH All of Us Research Program offers COVID-related data and research tools to RECOVER investigators to help drive understanding of the long-term effects of COVID, including Long COVID and other types of PASC (post-acute sequelae of SARS-COV-2 infection). Through the All of Us Researcher Workbench, interested researchers can access the COVID-19 Participant Experience (COPE) survey, electronic health records (EHR), wearable, and genetic data. To explore the kinds of data available through All of Us and register for access, visit the All of Us Research Hub.