Research: How does COVID affect different body tissues and organs?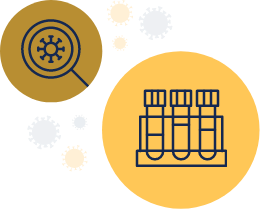 RECOVER Pathobiology Awards
RECOVER has awarded over $37 million in funding for more than 40 research projects. These studies will quickly advance what we know about how COVID affects different body tissues and organs.
The studies will tell us more about how the many different symptoms develop in people who have had COVID. We'll also learn about what causes the long-term effects of COVID, known as Long COVID.
The research awards include:
More funding to researchers whose current studies show promise to quickly advance our understanding of what causes lasting symptoms in Long COVID.
New funding to teams of RECOVER researchers from different specialty areas to support further analysis of tissue samples and data collected in current RECOVER studies.
| Title | Principal Investigator | Institution |
| --- | --- | --- |
| Role of Sleep in PASC Recovery and the Development of Immunological Memory | Monika Haack | Beth Israel Deaconess Medical Center |
| Molecular Determination of Risk for PASC by High Sensitivity Serological Analyses of Inflammatory Pathway Markers, Prior Viral Histories and Autoantibodies | David Walt | Brigham and Women's Hospital |
| Cardiac Inflammatory and Microvascular Alterations Associated with Post-Acute Sequelae of SARS-CoV-2 Infection | Robert Padera | Brigham and Women's Hospital |
| Machine Learning-Assisted Characterization of Cardiovascular Long COVID-19 | Masanori Aikawa | Brigham and Women's Hospital |
| Cerebral Microvascular Integrity in Children With and Without Persistent Central Nervous System Symptomatology | John C. Wood | Children's Hospital Los Angeles |
| Viral and Host Genomics Influences on the Phenotypic Expression of COVID-19 Infection and Its Sequelae in Children of Varied Genetic Ancestries | Sindhu Mohandas | Children's Hospital Los Angeles |
| Features and Functions of ACE2 Autoantibodies that Developed after SARS-CoV-2 Infection | Christopher Todd Bradley | Children's Mercy Hospital |
| Improving Understanding and Diagnosis of Post-Acute Sequelae of the SARS-CoV-2 Infection (PASC) in the Heart: A Cardiac Magnetic Resonance and Autopsy Study | Aloke V. Finn | CVPath Institute |
| Long COVID in the Eye (LoCEYE) Study with the RECOVER Initiative | Ighovwerha Ofotokun | Emory University |
| Metabolic and Epigenetic Mechanisms of PASC | Rafick Sekaly | Emory University |
| Elucidating Genetic and Environmental Second Hits in Racial and Ethnic Minorities with APOL1 High-Risk Genotypes | Girish Nitin Nadkarni | Icahn School of Medicine at Mount Sinai |
| Immune and Neurovascular Signatures of Psychiatric Post-Acute Sequelae of SARS-CoV-2 Infection | Scott Russo | Icahn School of Medicine at Mount Sinai |
| From Big Data to Big Knowledge and AI: Connecting Multi-omics COVID-19 Cohort Data to Knowledge Graphs to Explain Pathophysiological Mechanisms of Long-COVID | Sui Huang | Institute for Systems Biology |
| Sex, Obesity, Immunometabolism, and Viral Persistence in Post-Acute Sequelae of SARS-CoV-2 Infection | Andrea L. Cox | Johns Hopkins University |
| Metabolic Dysfunction, Viral Persistence and Bioenergetic T-Cell Fatigue in Post-Acute SARS-CoV2 | Clifford J. Rosen | MaineHealth |
| Imaging Neuroglial Mechanisms of Neuropathic Pain-Opioid Interaction in HIV | Marco Luciano Loggia | Massachusetts General Hospital |
| Mechanisms of Long-term Taste Loss in Post-Acute Sequelae of COVID-19 | Hong Wang | Monell Chemical Senses Center |
| Prenatal Immune Activation and Maternal Mental Health as Predictors of Infant Sleep and Cognitive Development | Moriah Thomason | New York University Grossman School of Medicine |
| Pathogenic Mechanisms of Neuro-PASC in Older Adults | Kristen Knutson | Northwestern University |
| Post-Acute Metabolic Sequelae of SARS-CoV-2 Infection in Nonhuman Primates | Charles T. Roberts | Oregon Health and Science University |
| Post Acute Sequelae of COVID-19 (PASC) Investigators Consortium Phase 2: Researching COVID to Enhance Recovery (RECOVER) | Lawrence Kleinman | Rutgers Biomedical and Health Sciences, Robert Wood Johnson Medical School |
| Obesity, Insulin Resistance, and PASC: Persistent SARS-CoV-2 infection and Inflammation in Human Adipose Tissue | Catherine Blish | Stanford University |
| Characterization of Autoantibodies in PASC | Paul J. Utz | Stanford University |
| Understanding Adaptive and Innate Immune Cell Dysfunction in Patients with PASC | Purvesh Khatri | Stanford University |
| Sequencing B Cell Repertoires to Elucidate Autoantibodies and the Role of EBV in PASC | William Robinson | Stanford University |
| Autonomic Complications of PASC | Mitchell Miglis | Stanford University |
| GenoMISC: Genetic Determinants of Multisystem Inflammatory Syndrome after SARS-CoV-2 Infection in Children (MIS-C) | Mark Russell | The Regents of the University of Michigan |
| Role of NLRP3 Signals in Ischemia/Reperfusion-Induced Organ Injury | Diane B. McKay | The Scripps Research Institute |
| Functional Immune Responses in Children with Post-Acute Sequelae SARS-CoV-2 Infection | Thomas Connors | The Trustees of Columbia University in the City of New York |
| Tryptophan Metabolism and Microbiome in Long-COVID Related Kidney Disease | Kumar Sharma | The University of Texas Health Science Center at San Antonio |
| Long-term Sequelae of SARS-CoV-2 Infection: Diabetes Mellitus | Ralph DeFronzo | The University of Texas Health Science Center at San Antonio |
| Origins of Post-Acute Sequelae SARS-CoV-2 Infection (PASC) Lung Fibrosis | Amit Gaggar | University of Alabama at Birmingham |
| Tissue and Organ Specific Human B Cell Immunity: Supplement -- Metabolic Risk Factors and Inflammation in PASC Development | Frances E. Lund | University of Alabama at Birmingham |
| Deciphering the Link Between Severe Acute Respiratory Coronavirus 2 Infection and Long-Term Neurological and Pulmonary Sequelae | Xin Sun | University of California, San Diego |
| Host Response to SARS-CoV-2 Infection and Its Role in PASC | Bellur Prabhakar | University of Illinois at Chicago |
| Cerebral Vascular Pathology of COVID-19 | Michal Toborek | University of Miami School of Medicine |
| Pathophysiological Mechanisms of PASC: Inflammatory Mediators of Endothelial Dysfunction in the RECOVER Cohort | Ellen Kraig | The University of Texas Health Science Center at San Antonio |
| Neurological Sequelae Associated with Post-Acute SARS-CoV-2 Infection (NEURO-PASC) | Amy Salisbury | Virginia Commonwealth University |
| Epigenetic Alterations and Phenotypes in Innate Immune Cells and Their Progenitors in PASC | Steven Zvi Josefowicz | Weill Medical College of Cornell University |
| Viral and Immune-Mediated CNS Pathology During SARS-CoV-2 Infection | Akiko Iwasaki | Yale University |
| Cerebrospinal Fluid in PASC: A Window into the COVID Mind | Serena S. Spudich | Yale University |